In case you haven't already seen it, there's a LOLarious
Twilight
movie poster out there (behind an LJ cut because it's sort of large, and I don't want to sparkle up your Friends pages):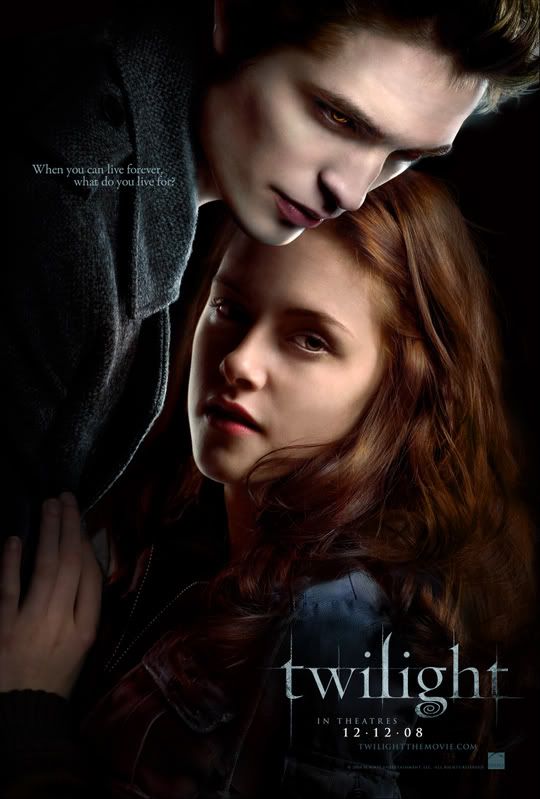 Now, it's not nearly as bad as the infamous
Entertainment Weekly
cover...
...what with its awkward nippletastic pose, zombie eyes, side-buckling belt, not-very-statuelike-or-Greek-God-esque chest hair, and wack makeup job. But it's still LOLarious, mainly because (1) I have no idea how/why Edward is hovering so high above Bella (inability to fly just might be his one non-Sueish attribute) and (2) Edward's OMGamber eyes look like a bad Photoshop job (hello, have you ever heard of 1-800-CONTACTS?). And (2 1/2) speaking of bad Photoshop jobs, the two lines of white text on there are barely readable and in a really blah font, as if the designer had decided it wasn't worth his/her time to bother.
God, I can't get enough of
Twilight
. Is there such a thing as an antifandom? If so, I think I just might be a card-carrying member.
Apologies to anyone on my flist who genuinely likes this canon. It's nothing personal against you! Feel free to go on loving the canon; hell, I'm addicted to
The Maury Povich Show
(paternity tests FTW!), so my tastes are highly questionable to begin with. It's just my opinion. ;)